Good Hallow's Eve, my children of the night, my darling spectres and succubi. Gather close. Closer still. Are you sitting comfortably? Right. Let me tell you a tale, my little sex pumpkins.


Let me tell you what a shitty movie
Dead Snow
is.



This derivative Norwegian lump (
Død Snø
) made a stir on the festival scene back in 2009, and its trailers became an online sensation. Nazi zombies! How fun! How new! But I'm pretty convinced "Nazi zombies" was just the incantation that summoned earnest money from investors, who'd never heard of a little gem of Cushingiana called
Shock Waves
.




Look at that! Not just Nazi zombies, but
underwater
Nazi zombies. That's amping things up a bit.
I digress. Thing is, Nazi zombies, unless deployed in a correct context, are no scarier or more dangerous than regular zombies. Once risen, all zombies are equal, no matter what they did in life. We know that barricading oneself in a snowbound cabin with an undead horde outside is an untenable position, so does it really matter if the walking corpses are wearing Schutzstaffel armbands, or lederhosen, or nothing at all?


Not unless you're going to take it all the way. What do Nazis do that's bad? Two things come to mind, and since the setting of
Dead Snow
is the ass-end of the fjords, we can discard "annexing the Sudetenland." If the trapped protagonists, each just vague silhouettes of slasher-flick victim stereotypes, had some personal or ancestral stake in the matter -- if one or more of them were Jewish, say, or if they were the only ones in a position to repel a Nazi zombie putsch into the population centers -- that makes a difference. If the zombies had some ultimate purpose beyond, apparently, safeguarding the gold they looted during the war and killing any warm human who snowshoes onto their glacier -- that makes a difference. If their undeath spread like disease, as zombiehood usually does, and victims risked being transformed not just into walking corpses but into doctrinaire National Socialists ... you see where I'm going. Real monsters are metaphors, and these monsters are devoid of any meaning deeper than a uniform and a snarl.
The filmmakers would probably rather we not discuss politics, but they brought it up. Nazis are political, and any cinematic impact they carry is rooted in their well-recorded misdeeds. (I mean, they recorded them
themselves
.) I fear we're moving too far away from that history, so there's no shame in proving Godwin's Law anymore.
Dead Snow
is like a facet of the Tea Party protests, where fringies decry national health care with
reductio ad Hitlerum
placards -- for shock value, just to get the cameras turned their way.
Dead Snow's

posthumous brownshirts, although acting in an organized military fashion, aren't driven by any racist or nationalist ideology or even a hunger for brains.

It's dangerous in that it's so free of real-world reference. Even
Shock Waves
had the sense to touch on Nazi medical butchery, to make the gimmick matter.
Raiders of the Lost Ark
highlighted the Nazis' territorial aggression and racial doctrine, and then meted out God's incinerating justice.
Halloween movie fests are a tradition. It's fun to select a stack of flicks for your party or sleepover and indulge in a case of the creeps, or the titters.
Dead Snow
is available on Netflix Instant Watch. Avoid it. Don't rent the disc, don't torrent the stream. I don't care how much you love ScandiHorror -- this is not
Let the Right One In
. As horror spoofs go, this is not even
Shaun of the Dead
and it's a hell of a long way from
Evil Dead 2.
It's just a waste.

Okay, I misspeak -- there's
one good kill
. One! A Nazi zombie hooks his fingers into a fat guy's eye sockets and pulls until his skull splits and his still-living brain flomphs out on the cabin floor. That's ... pretty awesome. But it's just a garnish on a bucket of vacuous bilge, something that's hollow and desperate at best and, at worst, subtly corrosive to the untutored conscience.


You know what else is on Netflix Instant?
Shock Waves.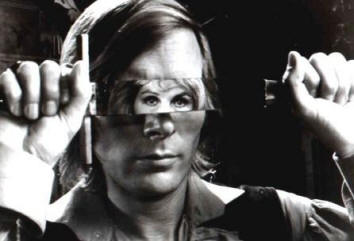 To end on a positive note: I'd love to know the fright films, if any, that find their way to your home screen around Halloween time. My touchstones are the Stuart Gordon's Re-Animator and From Beyond, the first Alien, and select Hammer fare including, but not limited to, Captain Kronos: Vampire Hunter. Please share in comments ... and Happy Halloween, my tumescent sin biscuits.